1967
9th Bienal de São Paulo
September 22 - December 8, 1967
956Artists
4.638Works
63Countries
The "Pop Art Bienal" opened under a shroud of controversy: even before the exhibition opened, the Federal Police removed two works on the grounds that they were "offensive" to the Brazilian Constitution: Cybèle Varela's painting O presente was considered "anti-nationalist" – the work was destroyed and the artist almost arrested by the DOPS – and the series by Quissak Jr., Meditação sobre a Bandeira Nacional, which infringed laws that prohibited the free use of the flag. The US delegation presented a sample of Pop Art that included Jasper Johns, Andy Warhol, Roy Lichtenstein and Robert Rauschenberg. Many works were damaged and the US room was vandalized a few days into the exhibition. From this show on, the award jury was composed of art critics rather than consultants
President of Bienal: Ciccillo Matarazzo
Consultants for Plastic Arts: Alfredo Mesquita, Geraldo Ferraz, Henrique E. Mindlin, Jayme Maurício, José Geraldo Vieira, Salvador Candia
In the Selection Jury: Clarival Valladares, Mario Schenberg
In the Award Jury: Frederico Morais, Geraldo de Barros, Robert Giron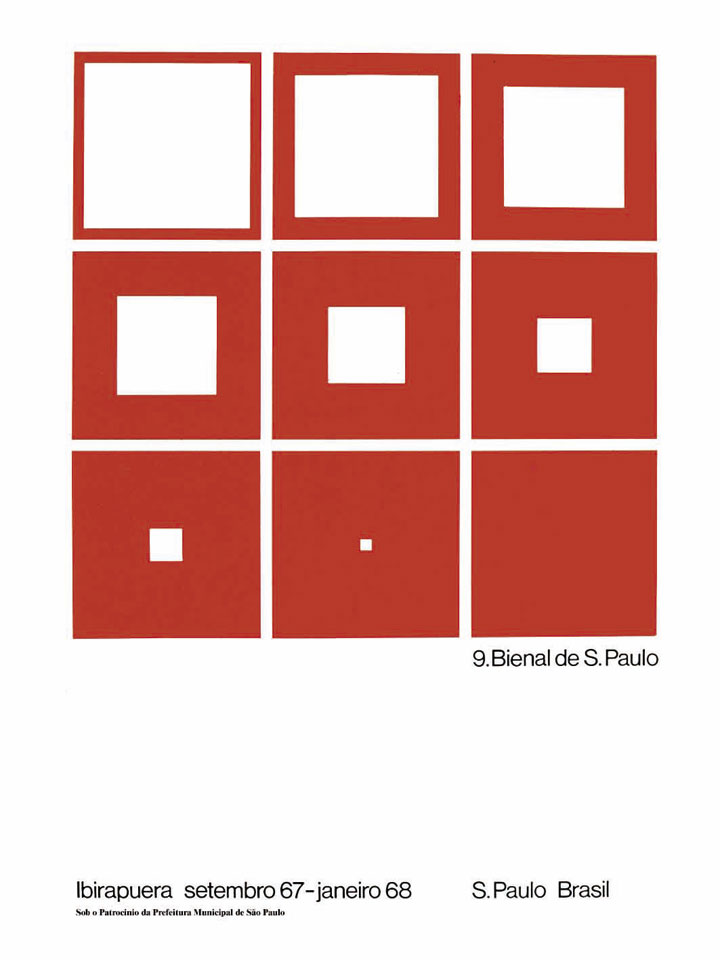 Autoria: Gobel Weyne
"Although born in England, it was in the United States that Pop art found its best translation and greatest star: Andy Warhol. Already defined as the 'ageless child of the world of the media,' he devalued the aesthetic function of art. In a mechanized society, where the artist himself became a machine, Pop art devoured its scraps, easily recognizable mass-culture stereotypes such as Campbell's soup cans or portraits of Marilyn Monroe […] Unlike Warhol, James Rosenquist did not try to freeze the stereotyped image of publicity, but instead absorbed all the energy and expressive speed of it."
AMARANTE, Leonor. As Bienais de São Paulo: 1951 a 1987. São Paulo: Projeto, 1989, p.165
"The anti-contemplative voluptuousness of contemporary art had come between us, just when the demands of the political regime became tougher and more repressive. In this Bienal, the interaction between art and the public reaches a new level in the history of the exhibition—and perhaps in the history of any great exhibition before it. Days after its opening, 'there were no more works intact at the Bienal and it was not known whether there had been a day of wonderful celebration or a fierce battle of vandals. The people consecrate the new art."
ALAMBERT, Francisco e CANHÊTE, Polyana. As Bienais de São Paulo da era do Museu à era dos curadores (1951-2001). São Paulo: Boitempo Editorial, 2004, p.117