1991
21st Bienal de São Paulo
September 21 - December 10, 1991
144Artists
1.028Works
32Countries
Only for this edition did the Bienal resume the system of open registration for artists from all over the world. Heading the curatorship, João Cândido Galvão repeated his role in the previous edition as curator of the dance, music and theater sections, and enjoyed success by presenting two unforgettable performances: Suz/O/Suz, by the Catalan group Fura dels Baus, and O Trilogie Antica: Medeea, Troienele, Electra, by Henrik Ibsen, narrated in Latin and Greek by the National Theater Company of Bucharest
President of Bienal: Jorge Eduardo Stockler
General Curator: João Cândido Galvão
Curators: Ana Helena Curti, Gloria Cristina Motta
Art Technical Committee: Caciporé Torres, Carmen Velasco Portinho, Emilio Kalil, Evelyn Berg Ioschpe, João Cândido Galvão, José Américo Motta Pessanha, Luiz Aquila
In the Award Jury: Casimiro Xavier de Mendonça, Fabio Magalhães, Maria Alice Milliet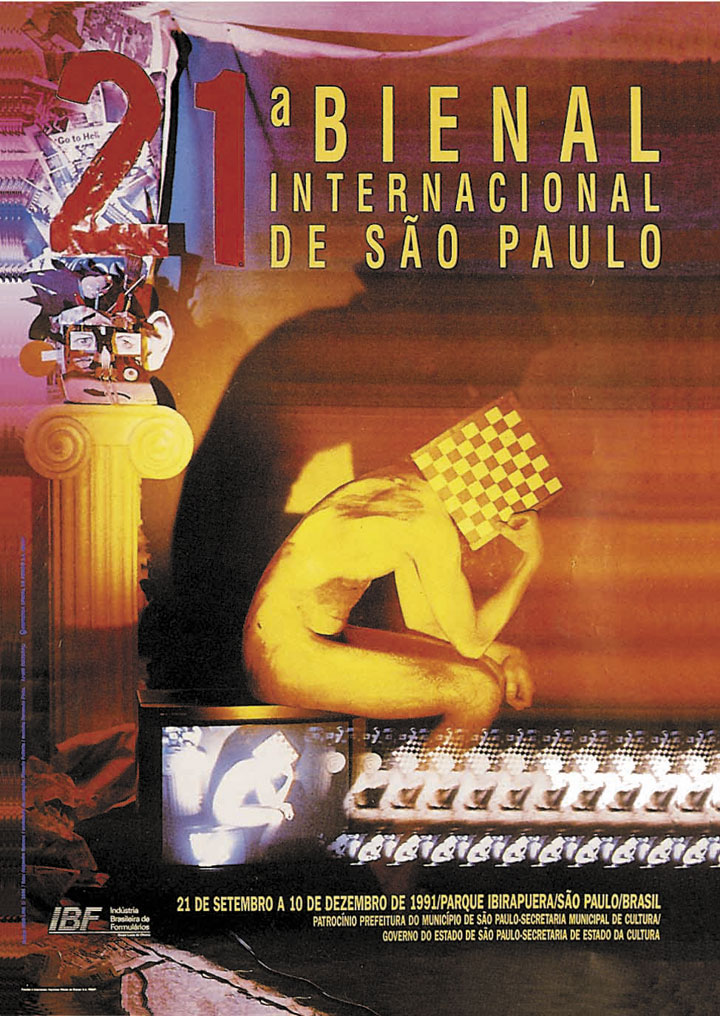 Autoria: Rico Lins
"I do not know Art that, in some way or other, does not have Man at its centre. 

[…]

 I am interested in the work of the misbehaved artist, those who are not afraid to exceed the limits, to widen frontiers, to confront rules, in search of results that can satisfy their creative needs. 

[…]

 The 21st Biennial suits its time, nothing else. It is not, and it was not our intention to create paradigms. It is enough to the curatorship to have realized the Biennial, without a model and unwilling to be one".
GALVÃO, João Candido. "Introdução" [Introduction]. In 21ª Bienal Internacional de São Paulo. São Paulo: Marca D'Água, 1991, p.17 (exhibition catalogue)
"This year, the Transcontinental exhibition, organized by the Ikan Gallery, also opens in Manchester. This exhibition gives special attention to contemporary Brazilian art, […] The following year, 1991, a retrospective of Hélio Oiticica, the artist who best represents this growing visibility of Brazilian contemporary art abroad […] This favorable repercussion will be extremely beneficial to the art produced here, and the Bienal will take part in this new moment in which recent Brazilian art gains international visibility." "
ALAMBERT, Francisco e CANHÊTE, Polyana. As Bienais de São Paulo da era do Museu à era dos curadores (1951-2001). São Paulo: Boitempo Editorial, 2004, p.186