1996
23rd Bienal de São Paulo
The dematerialization of art at the end of the millennium
October 5 - December 8, 1996
134Artists
1.181Works
75Countries
A new record in the number of national representations with 75 countries subscribing to the theme proposed by Nelson Aguilar: "The Dematerialization of Art at the End of the Millennium." On this occasion, a Historical Nucleus with a broad diversity of countries brought together over 200 prints by Francisco de Goya, illustrated the posthumous work of Jean-Michael Basquiat, and presented 37 paintings by Edvard Munch
President of Bienal: Edemar Cid Ferreira
General Curator: Nelson Aguilar
Associate Curator: Agnaldo Farias
Special Rooms Coordinator: Per Hovdenakk
Curators of Universalis Exhibition: Tadayasu Sakai (Japan), Jean-Hubert Martin (France), Mari Carmen Ramírez (Puerto Rico), Paul Schimmel (USA), Katalin Néray (Hungary), Achille Bonito Oliva (Italy), Nelson Aguilar, Agnaldo Farias (Brazil)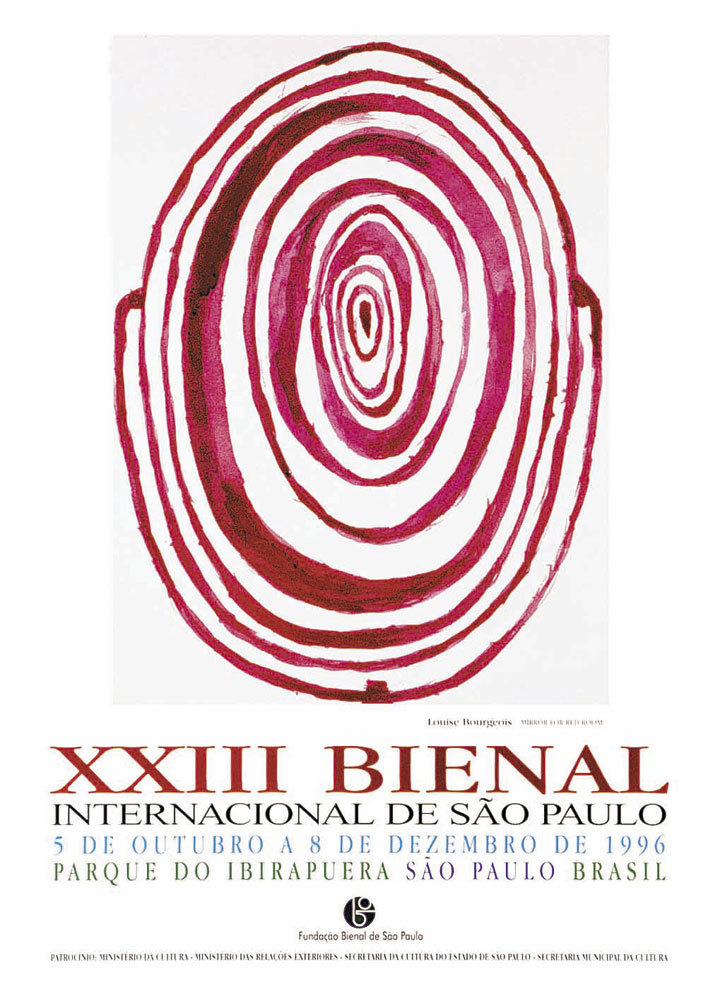 Autoria: Louise Bourgeois
"The experience obtained with the 1994 show was an essential resource that went into making this edition successful in several aspects. These successes began with the museographical design elaborated by Paulo Mendes da Rocha, and which was delivered to the artists one month before the opening of the exhibition, simultaneously to the release of the three enormous exhibition catalogs - something practically unheard of in the history of the Bienal, which has always been marked by a tardy setup process invariably extending into the exhibition period."
FARIAS, Agnaldo (org.). Bienal 50 Anos, 1951-2001. São Paulo: Fundação Bienal de São Paulo, 2001, p.248
"Biennial art shows have been springing up in various countries. ln Africa and South Korea, mega-exhibitions feature a synthesis of both their regional art as well as the art of other parts of the world. Nowadays, the creation of biennial art shows somewhat resembles the foundation of cities - it is a mythical enterprise with a symbolic meaning that rules the destiny of those that plant its seeds. For instance, whereas Johannesburg 

nourishes the dream of an African integration, Kwangju seeks to promote the coexistence of art and technology. Each of these dreams attests to the fact that human existence is an endless task. Given its precedence over the more-recent biennials (Havana, Istanbul, Sidney, Cairo, Cuenca and Ljubljana, in addition to those mentioned above), the Bienal Internacional de São Paulo is in a position to draw a few conclusions. Time has consolidated its character, which is at the same time particular and universal. [...] A seasoned, long-standing biennial such as ours is a forever shining star that guides voyagers along their current and future paths."
FERREIRA, Edemar Cid. "The particular and the universal in the 23ª Bienal Internacional de São Paulo". In 23ª Bienal Internacional de São Paulo. São Paulo: Fundação Bienal de São Paulo, 1996, p.19 (exhibition catalogue)
"The theme of the 23th Bienal Internacional de São Paulo - the dematerialization of art at the end of the millennium - is more comprehensive than that of the previous exhibition, which addressed the rupture of the traditional art support. It is intended to transform the circle into aspiral. At the 22th Bienal, world art was reviewed from the basis of Brazilian experience. On that occasion, the triad formed by Lygia Clark, Hélio Oiticica and Mira Schendel demonstrated the insufficiency of the attributes of canvas or sculpture to meet the desire to conquer new means of expression. [...] However, the departure from the support is only an aspect of the broader movement of dematerialization that involves not only the definition of artwork itself, but also the manner in which humankind inhabits the world at this century end."
AGUILAR, Nelson. "A era da desmaterialização" [The Age of Dematerialization]. In 23ª Bienal Internacional de São Paulo. São Paulo: Fundação Bienal de São Paulo, 1996, p.20 (exhibition catalogue)