1998
24th Bienal de São Paulo
One and/among Others
October 3 - December 3, 1998
326Artists
1.140Works
54Countries
Known as one of the best edition ever produced, the "Anthropophagy Bienal" was led by Paulo Herkenhoff as general curator and Adriano Pedrosa as associate curator. The concept, extracted from the roots of Brazilian culture, permeated the work of all 76 curators involved in the exhibition, as well as was the result of powerful solo shows dedicated to each of the 53 National Representations. The curators worked with the idea of contamination and put contemporary Brazilian works in dialogue with works in the Historical Nucleus
President of Bienal: Julio Landman
General Curator: Paulo Herkenhoff
Associate Curator: Adriano Pedrosa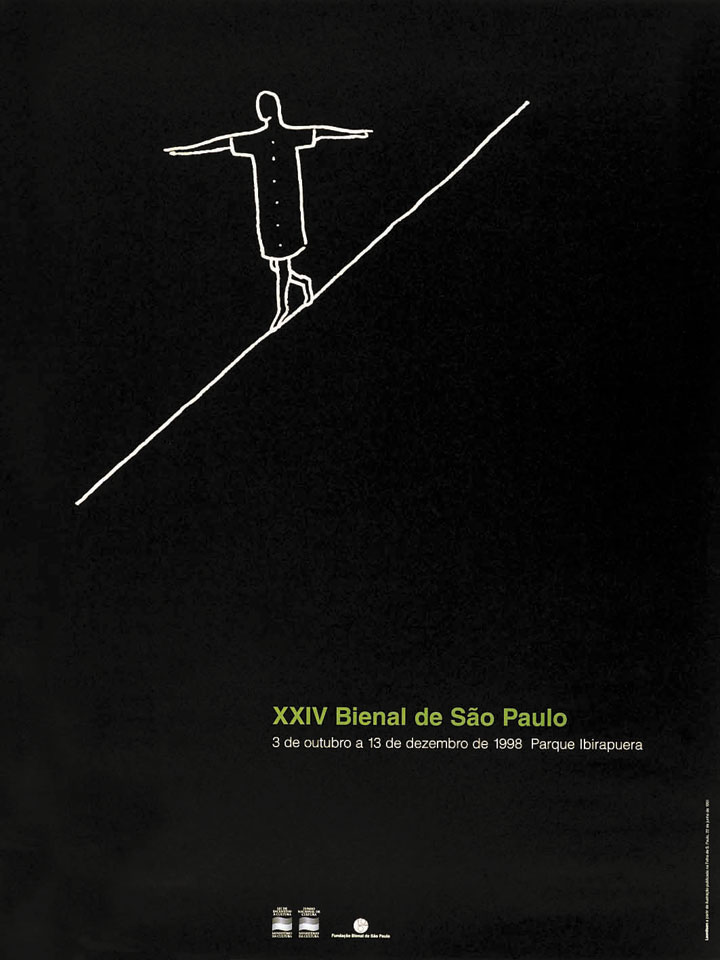 Autoria: Leonilson; Raul Loureiro e Rodrigo Cerviño Lopez
"Fundamentally, the idea of National Representation encounters a basic contradiction which is brought about by the process of contemporary art in a globalizing world and the consequent search for difference: the migrations of artists, exiles, diasporas, the desire for the center ar the periphery. ln an experience characterized by individuality, it is difficult to speak of an artist as a "national representative." In the exhibition catalog for

Information

,  the Brazilian artists Hélio Oiticica and Cildo Meireles wrote, without previously consulting each other, something similar and relevant to issues which the Bienal de São Paulo currently faces. Cildo: "I am here, in this exhibition, to defend neither a career nor any nationality." Hélio: "I am not here representing Brazil; or representing anything else [...]"
HERKENHOFF, Paulo. "Ensaio de diálogo" [Dialogue essay]. In XXIV Bienal de São Paulo, volume 3, Representações Nacionais. São Paulo: Fundação Bienal de São Paulo, 1998, p.35 (exhibition catalogue)
"The first idea of art critic Paulo Herkenhoff was to mix works by artists that were originally distant in time and space through the notion (perhaps the curator preferred 'concept') of 'contamination.' From there came the historical concept of 'anthropophagy.' Thus, the 24th Bienal ought to use Oswald de Andrade's Anthropophagic Manifesto (1928) as a starting point, to discuss the anthropophagic concept as a formative element of Brazilian cultural identity: 'I wanted it to have a starting point drawn from Brazilian culture, with an understanding that our culture is affiliated with Western culture, but with tensions, differences and singularities'."
ALAMBERT, Francisco e CANHÊTE, Polyana. As Bienais de São Paulo da era do Museu à era dos curadores (1951-2001). São Paulo: Boitempo Editorial, 2004, p.206