2002
25th Bienal de São Paulo
Metropolitan Iconographies
March 23 - June 2, 2002
194Artists
546Works
68Countries
Centered on the theme "Metropolitan Iconographies", the 25th Bienal has become famous for the strong presence of Brazilian artists off the São Paulo/Rio de Janeiro axis. The appointment of the first foreign curator, Alfons Hug, from Germany, excited controversy. However, the show received excellent acclaim and beat attendance records, at 668,428 visitors
President of Bienal: Carlos Bratke
General Curator: Alfons Hug
Brazilian Nucleus Curator: Agnaldo Farias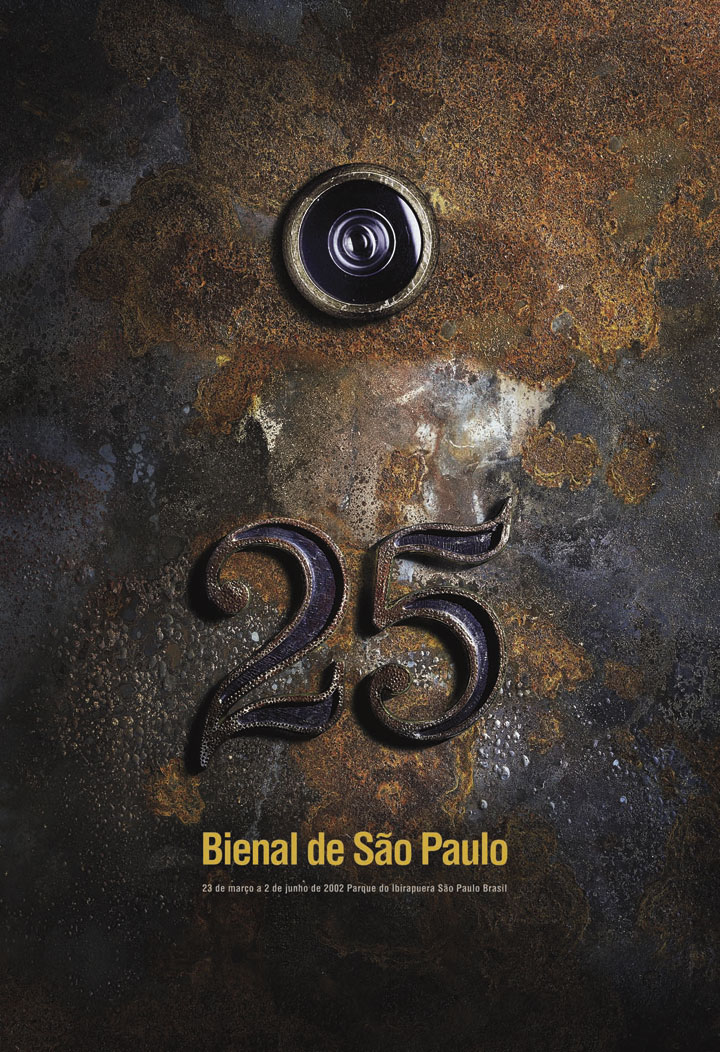 Autoria: Benjamin Yung e Guilherme Facci
"A considerable number of artists participating in the current Biennial have been focussing their energies on the city, creating works which relate directly to São Paulo. What we see here, however, is not art in public space, which in São Paulo always runs the risk of disappearing unnoticed in the maelstrom of the urban sprawl, but a more sensible decision to withdraw to the protected space of the Bienal, which allows for a more concentrated and undisturbed contemplation of the works. [...] In metropolitan conditions, art does not only vie with architecture, 

but also with ali forms of cacophony and visual pollution. It competes primarily with ali means of mass communication which have the advantage of rapid reproduction and ubiquity, such as cinema, television, advertising, desigrí and fashion."
HUG, Alfons. "Iconografias Metropolitanas" [Metropolitan Iconography]. In 25ª Bienal de São Paulo – Países. São Paulo: Fundação Bienal de São Paulo, 2002, p.18 (exhibition catalogue)
"More than just timely, Hotel is a necessary work. Aware of the moment the artistic circuit is going through in our country today, the artist touches a sore spot. Thanks to the artist's critical content, she is taking part in the São Paulo Bienal, but at the same time, she is signaling the dangers lurking in the institution and in artistic production itself, dangers that 100m toward us through an amazing process of "spectacularization" of our culture. Hotel alerts us to the fact that if this process is taken as natural and irreversible, art will be treated as an article of fast consumption, with the programmed obsolescence typical of articles hyped by the advertising industry."
FARIAS, Agnaldo. "Hotel das estrelas" [The Hotel of Stars]. In 25ª Bienal de São Paulo – Brasil. São Paulo: Fundação Bienal de São Paulo, 2002, p.24 (exhibition catalogue)
"Considering that this theme, as the author of the idea urges us to realize, has the density of an Aleph, the anthological construction of Jorge Luis Borges - "a tiny point in space that contains ali the points of an unconceivable cosmos" - and also considering that the artistic production summoned to elaborate on the theme of the contemporary metropolis is not restricted to representing a mere illustration of the metropolis, but rather reacts to the infinity of stimuli emanating from this multifaceted territory in an iridescent myriad of propositions, and, lastly, considering the urgent and truly tragic nature assumed by this issue in Brazil, it is evident that this theme is an imperative one."
FARIAS, Agnaldo. "Hotel das estrelas" [The Hotel of Stars]. In 25ª Bienal de São Paulo – Brasil. São Paulo: Fundação Bienal de São Paulo, 2002, p.24 (exhibition catalogue)