08 Mar 2016
Study Days in Santiago inaugurate the public programs of 32nd Bienal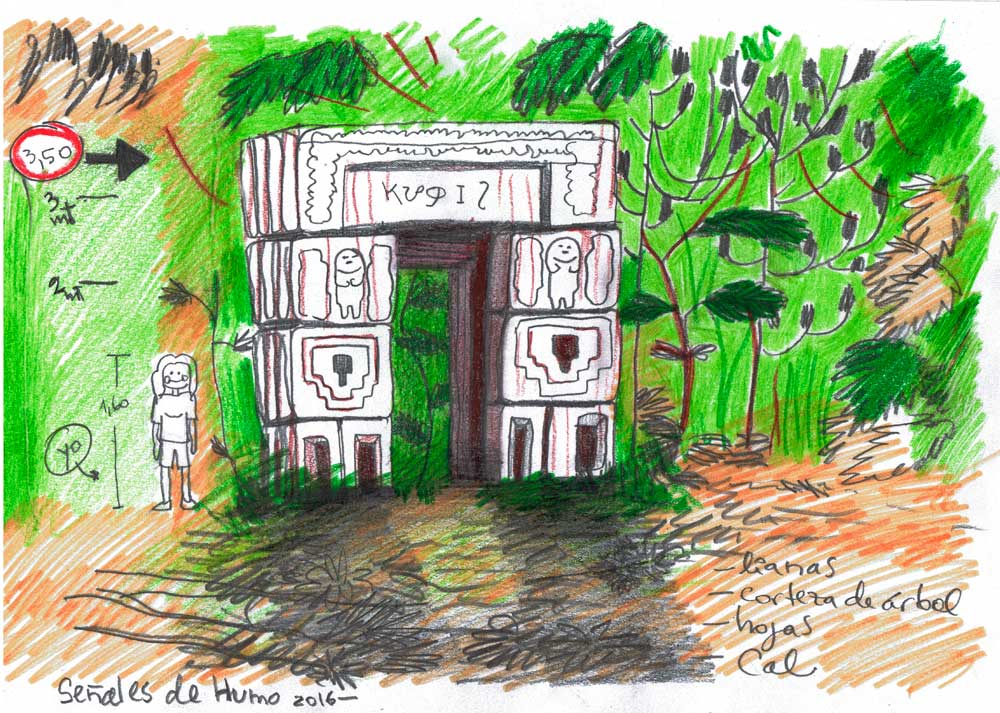 Study Days in Santiago will focus on cosmologies and relationships between art and science, myth and history from a present-day perspective. Public event on March 12th at Museo de la Memoria y los Derechos Humanos.
The Study Days - Santiago inaugurate the public programs of the 32nd Bienal de São Paulo and are organized by the Fundação Bienal de São Paulo in collaboration with the Consejo Nacional de la Cultura y las Artes – CNCA. Subsequent Study Days will take place in Accra, Lamas, Cuiabá, and São Paulo, and are devoted to the research, exchange, and public discussion of themes related to the 32nd Bienal de São Paulo.
The Study Days include field trips to cultural centers, traditional communities, ecological reserves, artists' studios and centers of research, as well as con­ferences open to the public, including invited lecturers and local professionals from different backgrounds and disciplines. The meetings are proposed to pro­mote an exchange between the projects' hosts and agents from the regions, and to provide the basis for a dialogue that seeks to develop ways of thinking and creating together.
The public event of the Study Days - Santiago will focus on cosmologies and relationships between art and science, myth and history from a present-day perspective. The public program on March 12th includes presentations by Yann Blanc Chateigné, Pierre Huyghe, Pia Lindman, Jacinta Arthur, Macarena Morales, Pilar Quinteros and the curators of the 32nd Bienal, Jochen Volz and Lars Bang Larsen. The Study Days in Santiago has the support of the Consejo Nacional de la Cultura ya las Artes, the Museu de la Memoria y los Derechos Humanos, Galeria Gabriela Mistral and Frame Visual Art Finland.
Titled Incerteza viva [Live Uncertainty], the 32nd Bienal de São Paulo focuses on notions of "uncertainty" and "entropy" in order to reflect on the current conditions of life in times of constant change and the strategies offered by contemporary art to harbor or inhabit uncertainty. The exhibition curated by Jochen Volz and the co-curators Gabi Ngcobo (South Africa), Júlia Rebouças (Brazil), Lars Bang Larsen (Denmark) and Sofía Olascoaga (Mexico) will be held from September 7 to December 11, 2016 at the Ciccillo Matarazzo Pavilion, featuring approximately 90 artists and collectives.
Conceptual framework for Study Days - Santiago
A  world with no outsides: no uncontaminated habitat, few thresholds at which society can remake itself against forces of exploitation, no utopia. As forces of globalization compress time and space, it seems that history itself is pulled together around the set central point of our contemporaneity. History is no longer seen as the result of dialectics but plays out inside networks.
How do we pry open time and space? A cosmology can be seen as the exercise of an imagination – realistic or unrealistic – of the cosmos and our place in it. It is an ecology of consciousness as much as an ecology of the world. Cosmologies are the property of science and religion, as well as of artists and children. In this spirit, Studys Days - Santiago propose two concepts – one related to space, the other to time – as the axes for this discussion: ecologies and xenochrony.
The work of thinkers such as Humberto Maturana and Francisco Varela opened up to an ecological understanding of how human culture is inextricably co-implicated with nonhuman agencies. Such human/non-human configurations also encompass the interaction of natural and technological things and bodies: bacteria, networks, machines, and swarms of stuff that act together and fundamentally affect human lives. Understood as animated collectives with an autopoietic force of their own, these live assemblages tend to erase the difference between nature and culture. In the perspective of such a trembling ontology, neither historical progress nor human supremacy can be assumed.
The concept of Xenochrony - strange or alien time - was probably coined by Frank Zappa, who used it to describe a recording technique in which a musical sequence is taken from its original context and incorporated in a different song. This created an unexpected combination of time signatures, intentions, and moods. According to the art historian Yann Chateigné, a xenochronic historiography is capable of pointing to references outside of current events and established timelines. Different temporalities can be spanned and interwoven, between human and non-human time, machine time and biological time, individual experience and longue durée, seed time and flower time.
As two types of cosmological thinking, Study Days - Santiago set ecologies and xenochrony to work on borders that separate knowledge from ignorance, time from space, and transform one into the other. As narratives of coexistence and coevolution that impinge on our present, they are aligned with how artists today re-assess forms of knowing, sensing and relating.
Public program day schedule
Saturday, 12th of March , auditorium of Museo de la Memoria y los Derechos Humanos, from 10h30 to 17h. Simultaneous interpretation (English to Spanish – Spanish to English) available. Free entrance.
Program
10:30 Jochen Volz: Welcome (in English)
10:45 Lars Bang Larsen: Introduction (in English)
11:15 Jacinta Arthur: 'Reclamando el Mana: Ontologías, Patrimonio y Repatriación en Rapa Nui' (in Spanish)
12:00 Pilar Quinteros: 'Señales de humo' (in Spanish)
12:40 – 13:30 Lunch break
13:30 Yann Chateigné: 'Asterochronies' (in English)
14:15 Pia Lindman: 'Talvivaara / Winter's Peril' (in English)
15:00 – 15:30 Coffee break
15:30 Macarena Morales: 'Imaginario baraditiano: entre Borges y la política, el comic, el mito y la vanguardia' (in Spanish)
16:10 Pierre Huyghe: Film screening and conversation (in English)
17:00 Final remarks
Participants
Jacinta Arthur (Chile, Ph.D. recipient from University of California, Los Angeles - UCLA)
Her research specializes in Rapa Nui. Her doctoral project focuses on the repatriation of indigenous heritage, which she examines as part of the broader cultural sovereignty and human rights movements. In addition to researching repatriation she coordinates the Rapa Nui Repatriation Program, which she formed in collaboration with her Rapanui colleagues, among them elders, middle age traditionalists, and young professionals. Recently Visiting Faculty at UCLA, she is soon to start a Research Fellow appointment at the Smithsonian Institution.  
Pia Lindman (artist – Finland)
Professor at the Alvar Aalto University, Helsinki. Originally trained as an architect, Lindman's artistic practice is cross-disciplinary and research-based, "contributing to the fields of design, environmental studies, and art as practice and research." She is currently engaged in building non-toxic environments, researching mushroom cultures, and learning and performing pre-scientific Finnish healing techniques. Has previously worked with shamanistic themes for an exhibition in Medellín.
Macarena Areco Morales (Chile, ressearcher at Pontificia Universidade Católica de Chile)
Her research lines include ways of imagining and describing the present time and the representations of future in recent Chilean and Latin-American narratives. Her work involves the analysis of narratives and the establishment of possible links between texts and relevant theoretical developments, as well as their related political-cultural and biographical contexts.
Pilar Quinteros (artist – Chile)
Born in 1988 (Santiago, Chile). Undergraduate degree in Art from the Pontificia Universidad Católica de Chile (2011). She is a co-founder and active member of the art collective MICH (International Museum of Chile), a multidisciplinary collective dedicated to generating reflective projects, art spaces and artwork. Winner of the Jean-Claude Reynal Scholarship (2012) for artists working in paper, awarded by the Foundation de France and the Fine Arts School of Bordeaux. Quinteros is the third place winner of the CCU Art Scholarship (2013) and finalist for the Future Generation Art Prize 2014, awarded by PinchukArtCentre, Kiev.
Pierre Huyghe (artist – France, living in Chile)
Pierre Huyghe was born in Paris in 1962. He studied at the Ecole Nationale des Arts Décoratifs, Paris. He received the Hugo Boss Prize in 2002 and the Special Award of the 49th Venice Bienniale in 2001. He has had solo exhibitions at Moderna Museet, Stockholm; Centre National d'Art Contemporain, Grenoble; Dia Center for the Arts, New York; Centre Georges Pompidou, Paris and Museum of Contemporary Art, Chicago. His works have been shown in exhibitions at venues such as the Whitechapel Art Gallery, London; Documenta 11, Kassel and P.S.1 Center for Contemporary Art, New York.
Yann Chateigne (art historian – France)
Art historian and curator, Yann Chateigné is currently Dean at the Haute école d'art et de design in Geneva. His responsibilities at the school also involve the direction of the curatorial institute and exhibition space LiveInYourHead as well as Fieldwork, a research and residency program spanning several locations (Geneva, Nantes and Marfa, Texas). Yann Chateigné is a graduate of the École du Louvre in Paris.
Study Days - Santiago de Chile, 32nd Bienal de São Paulo: Incerteza viva / Live Uncertainty
MMDH - Museo de la Memoria y los derechos humanos
March 12 2016, 10AM - 5PM
Matucana, 501, Santiago
Metro quinta Normal
Estacionamiento subterraneo público por la calle categral al llegar a Matucana