17 May 2018
Pavilion of Brazil at the 16th International Architecture Exhibition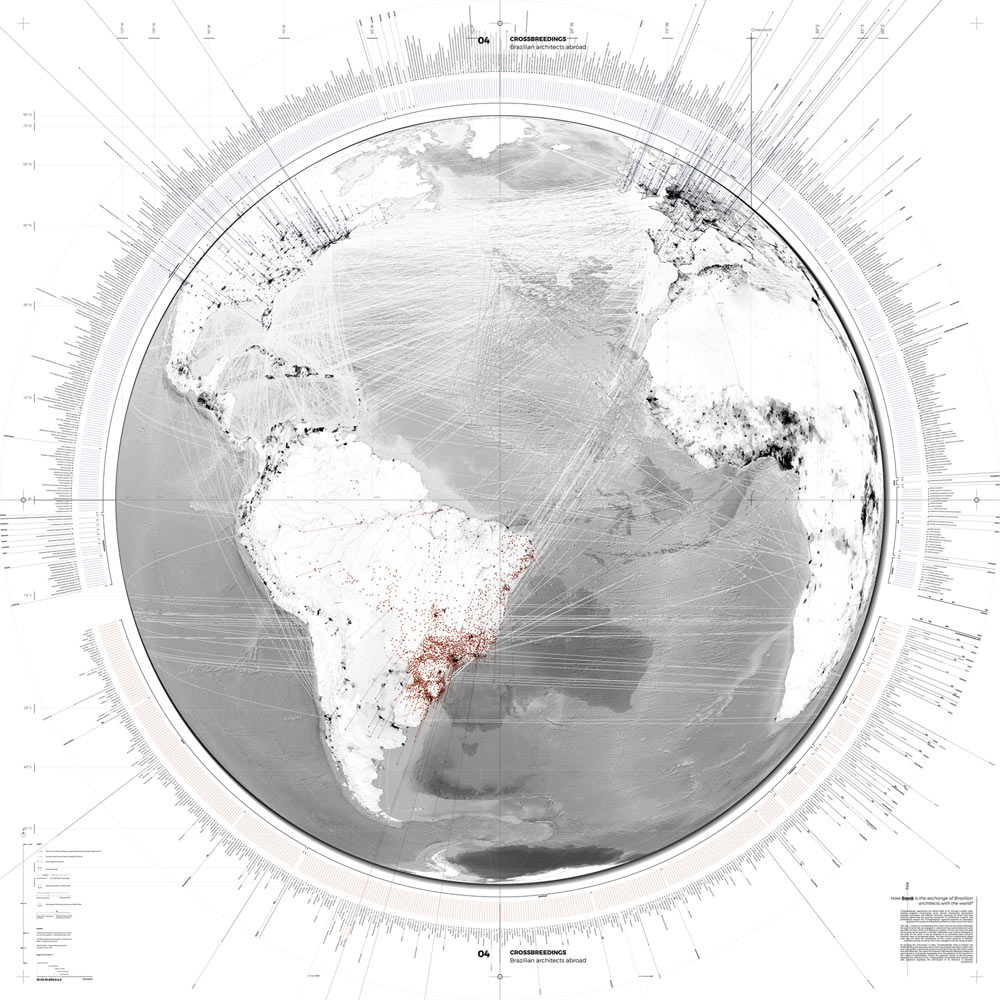 Opening on May 26, Brazil's official participation in Venice has been named Muros de ar [Walls of air] and is organized on two exhibition design fronts
In response to the curatorial proposal for the Biennale Architettura 2018, whose theme for this edition is FREESPACE, Brazil's official participation in Venice has been named Muros de ar [Walls of Air]. Under the curatorship of the architects selected by the Fundação Bienal de São Paulo, Gabriel Kozlowski, Laura González Fierro, Marcelo Maia Rosa and Sol Camacho, the exhibition aims to investigate the wall as an element of Brazilian architecture, culture and identity, and envisages in the act of bridging this wall an invitation to coexistence and multiplicity.
Muros de ar is organized on two exhibition design fronts. The first consists of the presentation of ten cartographic designs created based on research with a network of collaborators, consultants and institutions, as a way of visualizing the forms of spatial and conceptual separation resulting from the process of urbanization of Brazil. The second, in an initiative unprecedented in the history of the Brazilian participation in the event, focuses on projects chosen through a public selection process. Of the 289 projects assessed in over 60 Brazilian cities, the curatorship selected 17 examples that use architecture as a tool to measure conflict, transitions between public and private domains and connections between different urban fabrics.
"With the selection of the projects, the curators intend to illustrate a variety of processes that are faced by architects in their projects, which include: transforming private areas into spaces for public use; connecting neighborhoods; bridging scars from large infrastructure corridors; renovating degraded areas; opening new fronts of the city to the sea; revitalizing neighborhoods with vulnerable communities by introducing programs for quality housing; and maintaining spaces for culture in neighborhoods undergoing transformation. The different scales and types of the works selected show the enormous challenge of building and realizing projects of this nature in contemporary Brazil," explain the curators.
Open Call: Boulevard da Liberdade [Liberdade Boulevard] – Corsi Hirano Arquitetos, Candi Hirano / De onde não se vê quando se está (MAC) [Where you don't see where you are] – Pedro Varella, Gru.a Arquitetos / Do plano ao projeto: SESC Parque Dom Pedro II [From the plan to the project: SESC Parque Dom Pedro II] – Laboratório de Urbanismo da Metrópole – LUME, Una Arquitetos, H+F Arquitetos and Metrópole Arquitetos / Edifício Amata [Amata Building] – Triptyque Architecture / Escola sem muros: Centro Cultural Jardim Damasceno [School without walls: Jardim Damasceno Cultural Center] – Sem Muros Arquitetura Integrada / Farol da Maré [Maré Lighthouse] – Pedro Évora / Instituto Brincante [Brincante Institute] – Bernardes Arquitetura / Moradias Infantis [Children Village] – Rosenbaum + Aleph Zero / Habitação estudantil UNIFESP, Campus Osasco [UNIFESP Osasco Student Housing] – H+F Arquitetos / Parque Novo Santo Amaro V [Novo Santo Amaro V Park Housing] – Vigliecca & Associados / Orla Marítima de Ilha Comprida [Ilha Comprida Seafront] – Boldarini Arquitetos / Pirajussara 5 – Libeskindllovet Arquitetos, Jansana, de la Villa, de Paauw, arquitectes / Praça infantil [Children square] – Studio MK27 / Projeto Centro Aberto [Open Centralities Program] – SP Urbanismo / Sesc Ribeirão Preto – SIAA + HASAA / Terreiro Oxumaré – Brasil Arquitetura / Travessias [Crossings] – sauermartins + Metropolitano Arquitetos.
Cartographic Designs: O mapa não é o território [The map is not the territory]; Sucessão de bordas [Succession of edges]; Paisagem fluida [Fluid landscape]; Cruzamentos [Crossbreedings]; Fluxos humanos [Human flows]; Fluxos materiais [Material flows]; Geografia dos investimentos imobiliários [Geography of the Real Estate Market]; Habitar a casa ou a cidade? [Inhabiting the house or the city?]; Divisões sólidas [Solid Divisions]; Criptografias do poder [Power encryptions]. Curatorial Research Team: Gabriel Duarte, Chiara Scotoni, Olivia Serra, Barbara Graeff, Rafael Marengoni, Haydar Baydoun, Heloisa Escudeiro, Miguel Darcy, Giusepe Filocomo, Manoela Pessoa, Leonardo Serrano, Nitzan Zilberman, Catarina Flaksman Other collaborators: Pedro Camargo, Cota 760, Conselho Científico da Escola da Cidade, ETH Zurich, Global Forest Watch, Lab Cidade, MIT SA&P.
Pavilion of Brazil at the 16th International Architecture Exhibition – La Biennale di Venezia
Commissioner: João Carlos de Figueiredo Ferraz, President of the Fundação Bienal de São Paulo
Curators: Gabriel Kozlowski, Laura González Fierro, Marcelo Maia Rosa and Sol Camacho
Title of exhibition: Muros de ar [Walls of Air]
Location: Brazilian Pavilion
Address: Giardini Castello, Padiglione Brasile, 30122 Venice, Italy
Date: May 26 to November 25, 2018
Preview days: May 24 and 25